"Aviation is proof that given, the will, we have the capacity to achieve the impossible." - Eddie Rickenbacker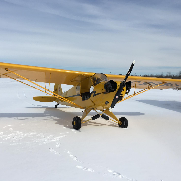 N733LL is the backbone of the Potsdam Aero fleet. The 172 is the most sucessful aircraft in history with more than 43,000 built. It's sucess is due in part to its unparalled flying characteristics. These characteristics make it an excellent training aircraft.
The J3 Cub is a classic trainer. Nearly 90% of WWII pilots learned to fly in Cubs. This aircraft also qualifies as a Light Sport Aircraft (LSA), which enables us to train sport pilots.